HBSC Bulletin Issue 31
Published 08:03 on 18 Oct 2023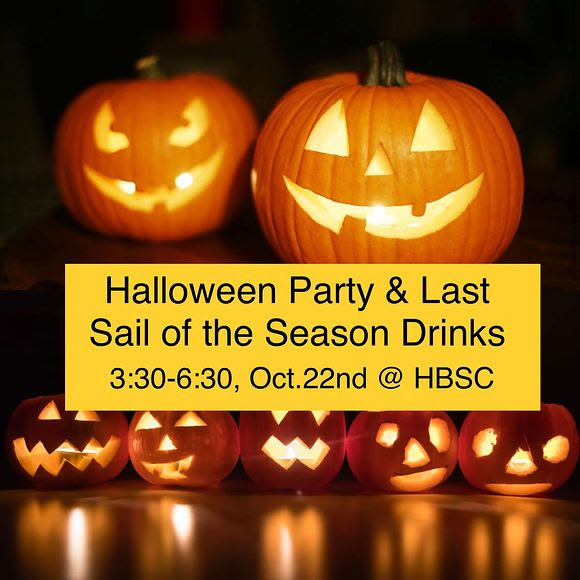 IMG-20231016-WA0000.jpg
Welcome to edition 31 of the Bulletin, the regular communication keeping you informed of things happening at HBSC.

Sailing
Link to sailing calendar: https://members.hernebaysailingclub.co.uk/events
Sunday 22nd October final sailing of the season, Freezer Series races 7,8,9. 2pm start. Galley will be open so please come down and enjoy a hot drink/light refreshment. Duty slots need to be filled for Race officer and safety boat please sign up on SCM.
The bar will be open after sailing for end of season drinks 3.30pm-6.30pm. VOLUNTEERS NEEDED TO RIN THE BAR PLEASE! Please contact Kai if you are able to help 07793611231
Programme for next year
Behind the scenes, beavers are beavering away at getting the programme ready for 2024.but we need input from the members to ensure that the programme is suitable. Please complete this short survey (this is anonymous) to help shape what the programme looks like. https://s.surveyplanet.com/s8z4zxty
Slipway Upping
Will take place on Saturday 28th October 6am start. Yes.6am.
Volunteer slots are available for booking on SCM. Thank you to those who have signed up. This involves removal of the slipway, packing and stacking of sections. Galley slots are also available (pretty please) to feed us with caffeine! There are no galley slots specifically on SCM, so just put your name down next to a working party slot. Help is also needed to put the club boats gear away.
In preparation all dinghies on the top park are required to be removed by the 21st October and all other boats along the front are to be removed by the 27th October. Boats left in situ will be moved.
AGM 11TH November 4pm
Dear members
As you know we are sorting out the management for next year in order to get it to the AGM on 11th Nov. We still need people to help out with the following please:
Social events - be part of a team to organise a supper, a quiz night, a Barn Dance, a Beer Festival or whatever.
Race Results - collate and post the results and sort out the Trophies for the prize giving
Galley Coordinator- keep the Galley stocked and ensure standards are maintained.
Health and Safety - monitor Risk assessments and ensure risks are mitigated.
Special Events Team - catering for larger events.
First Aid Boxes - keep the boxes properly stocked.
Many hands make light work.
Call me or write
Richard
07443115925
commodore@hernebaysailingclub.co.uk
07433115925
Water Users Meeting 11th November, straight after the AGM.
Please stay on for this meeting straight after the AGM. This is an opportunity for all water users to express their views and help shape the programme for next year. This is your club; we really need your input.
Dinner Dance
Dinner and dance end of year celebration, 25th November 2023. Tickets are £50 pp. This was a really fun event last year and we are really keen to make it as good as, or even better! Tickets are still available.
You can pay for tickets in three ways:
Cash: paid into the bar till. Please put a note in the till with the money so Dave and Jenny know where the extra money has come from.
Sum up machine: Bar or Galley
Bank transfer: HBSC, sort code 40-24-12, Acc No. 61409611, payment Ref. Dinner and Dance.
Whichever method you choose please email Jim and Viv stating how you paid and number of tickets required. We will then add you to the list of attendees and keep you informed of menu etc.
Jim Ledger: 07833 239514 jimledger725@gmail.com
Viv Oliver: 07904 466222 vjoliver66@gmail.com
Quiz night Saturday 2nd December save the date
Cadets
Christmas Party on the 10th December - more details soon.
KSSA wash-up
A huge thank you to everyone involved in the KSSA event last week it was extremely well received with many compliments on what a friendly and welcoming bunch we are, particularly from the event team! Thank you so much to the Dyer Family from Wingham Country Market who donated the jacket potatoes and the left overs were gratefully received at The Pilgrims Hospice.
Communications
There is an informal WhatsApp group for general chit-chat (not a formal means of communication), link here to join: https://chat.whatsapp.com/E6CyTSrGGEmLs24vLw6bAB
WhatsApp group for cadets: The link to join is here: https://chat.whatsapp.com/Bw4adSY2e01CmfAsV08hNh
And finally....
Dear all,
Jack from Rockley here. I hope this message finds you well and that you've been enjoying a successful season on the water. We wanted to reach out to you with some exciting news we have a few remaining spaces available on our upcoming RYA Training Courses, and we'd like to extend the opportunity for you, your staff and your members to join us. You can use our discount code TC20, to receive 20% off any of our RYA courses this year.
Here are the courses with available spaces:
RYA Dinghy Instructor Course 23rd 27th October 2023 with discount £316
RYA Senior Instructor Course 13th 16th November 2023 with discount £316
RYA Start Windsurfing Instructor Course 23rd 27th October 2023 with discount £316
RYA Intermediate Windsurf Instructor Course 30th October 2nd November 2023 with discount £319.20
Acting quickly will allow you, your staff or your members to secure these limited spaces and further their skills in a safe and controlled environment. To reserve spaces and obtain more information about these courses, please contact us as soon as possible. We are more than happy to answer any questions anyone might have.
Best regards,
Jack Clark, hello@rockley.org
| | |
| --- | --- |
| Rockley Adventure, Rockley Point, Poole, Dorset BH15 4RW | |
Last updated 08:03 on 18 October 2023